Fans and athletes expect the Middle Final at WOC to offer courses that are technically challenging to even the best in the world. This year's courses didn't disappoint!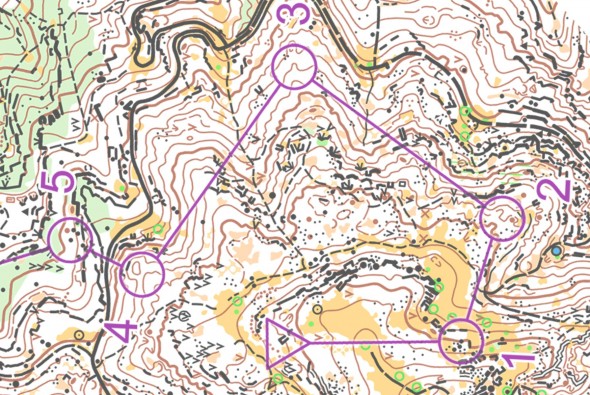 Beginning of women's course (from Worldofo.com)

You can see the full maps for
men
and
women
. GPS tracking was unfortunately sketchy so it is difficult to replay the courses for amusement and enlightenment's sake.
As for the Americans, Ali sums her up race (she finished 41st) with, "Not terrible, but not great either." The general feeling is that these were tough courses, and our runners got through them without disasters but everyone felt they could have been a little cleaner and a little faster. This sport is tough and yesterday's races demonstrated that quite clearly!
Ali racing Louise Oram (CAN) into the finish (photo: Kenny)
Hannah on the course (photo: Kenny)
Wyatt on the course (photo: Kenny)
Results:
Women
1 Annika Bilstam (SWE) 37:03
2 Ida Bobach (DEN) 37:25
3 Tove Alexandersson (SWE) 37:27
41 Ali Crocker (USA) 48:43
59 Hannah Culberg (USA) 58:42
And a big shout out to our rival from Canada, Emily Kemp, for her 11th place finish!
Full results
and
winsplits
.
Men:
1 Olav Lundanes (NOR) 38:12
2 Fabian Hertner (SUI) 38:30
3 Oleksandr Kratov (UKR) 38:46
66 Wyatt Riley (USA) 1:03:25
Full results
and
winsplits
.
Saturday brings the most spectator-friendly of all events at WOC -- the relay! Stay tuned.